Data Dragon Server augments Data Dragon's capabilities by providing:
An online scheduling service to run Data Dragon projects on a scheduled basis
A Self Service Portal allowing users in your organisation to access data in a variety of formats, coordinate systems and clipped to the required areas without even having to ask your GIS SMEs to export data for them.
Scheduled Services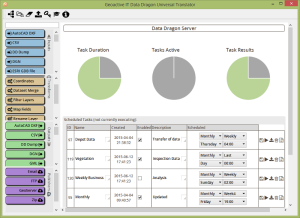 Data Dragon Server allows Data Dragon projects to be published to its scheduling service. These project can then be run on a scheduled basis from a little as every 5 minutes to once every year (and just about everything in between). Logging and alerting facilities providing the results of the scheduled projects are available as well as a dashboard of of all currently scheduled tasks.
Self Service Portal
Data Dragon Server also enables Data Dragon to become a Self Service Portal. By using Data Dragon to define input datasets, coordinate transformations and clipping, and output formats, a Self Server Portal can be quickly implemented. This allows users from your organisation to Self Serve their data requirements without having to wait for the GIS SMEs to create a GIS export specifically for them.