What is Data Dragon?
Data Dragon translates, transforms and publishes spatial data between different formats. It can even automate this process for you and perform tasks on a scheduled basis. Data Dragon can help you if…
You have spatial data in formats that you would like to easily use or share in other formats;
You need to transform your spatial data, such as coordinate transformations, dataset merges, layer and field filtering, spatial clipping;
You need to publish your data to other formats or systems either once off or via an automated process.
Formats
Data Dragon supports many of the major spatial data formats. Supported formats include:
DXF
CSV
DGN
ESRI GDB
GML
GeoJSON
Geospatial PDF
KML
MapInfo
PostgresSQL/PostGIS
Oracle/Oracle Spatial
Shapefile
Smallworld
SQLite
Is a format that you require not listed above? Chances are we support it. Contact us to find out.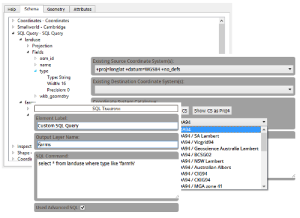 Transformations and Schema Explorer (click for full screen)
Publishing
Once you have transformed your data into your required data format, Data Dragon can automatically publish your data via:
Publishing the data to OGC based web services that are then accessible by your entire organisation.
Zipping (compressing) and emailing, FTPing or transfering the data across your network as required.
Automation of the entire translation, transformation and publication process on a scheduled basis using the Geoactive Server.
Data Dragon in action (click image for full screen)
Transformation
Data Dragon enables transformation of your data. Such transformations include:
Transformation between coordinate systems: Data Dragon identifies the coordinates system of your source/destination datasets (where available) and allows you to simply transform your records into the required coordinate system. Data Dragon also provides a library of over 4000 coordinate systems to choose from as well as the ability to define your own.
Merging of multiple datasets into a single dataset.
Filtering layers from datasets and mapping fields between layers.
Clipping datasets to the require spatial bounds.
Performing virtually unlimited user defined queries and transforms using SQL.
Is a transformation that you require not listed above? Chances are we already have it. Contact us to find out.
As an early adopter, you also get to determine which transforms we implement next!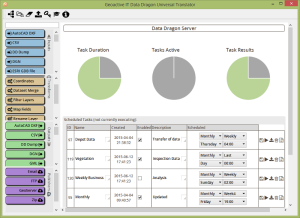 Automation via Geoactive Server (click for full screen)